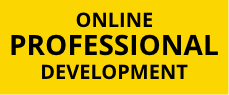 NEW SPECIAL WEBINAR SERIES
Preparing to Pivot: Engaging Students in Online and Blended Learning in Uncertain Times
The world has changed. After the first wave of Covid-19, English language teachers and students had to move from the in-person classroom to an online learning environment. Now some teachers are back in the classroom while others are continuing on their journey as online teachers. Even those who are in the classroom may need to transition back to the online learning environment at any time. As a result, many teachers are strategically blending both online and in-person learning so that they are better prepared for whatever these uncertain times may bring. Drawing on their research and teaching experience, Drs. Joan Kang Shin and Jered Borup from George Mason University will share tips for both online and blended English language teaching. The goal is to help English language teachers be "ready to pivot"—that is, be ready to provide effective English language instruction in any modality.
---
SPRING 2020 SPECIAL WEBINAR SERIES, "BREAKING THROUGH THE SCREEN:"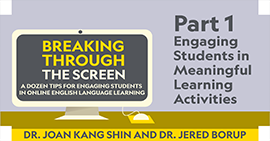 PART 1: ENGAGING STUDENTS IN MEANINGFUL LEARNING ACTIVITIES

WATCH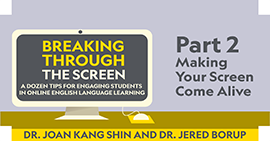 PART 2: MAKING YOUR SCREEN COME ALIVE

WATCH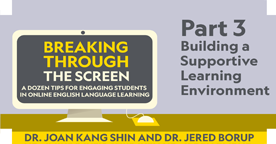 PART 3: BUILDING A SUPPORTIVE LEARNING ENVIRONMENT

WATCH
---
TRAINING VIDEOS
Learn how to use digital resources from National Geographic Learning for online classes.